Accessing Treatment and Support Options
PTSD Self Assessments
The Canadian Institute for Public Safety Research and Treatment (CIPSRT) has various screening tools available including Anxiety, Depression, Stress, Panic Disorder, PTSD, Risky Alcohol Use and Social Anxiety Disorder. Your responses are not recorded and there is no person monitoring the screening tools to provide support. If you need assistance you can anonymously email your results to yourself and take that information to an appropriate healthcare provider such as a psychologist or Physician. To access these screening tools:
Understanding the Strengths & Limitations of your Service's Employee Assistance Program
An important part of developing your prevention plan is understanding the strengths and weaknesses of your service's Employee Assistance Program (EAP). While many organizations offer this to their workers, the employees of the EAP are not always equipped to deal with the traumatic events that first responders are exposed to and therefore your EAP program may not be the recommended portal for workers who are experiencing PTSD.
It is important that you understand the service strengths and limitations so that you can address any gaps in your prevention plan. You need to find out about the specific provision of service for your workers with regards to PTSD. Remember it is best for workers to receive treatment by a qualified mental health professional who has received training to address PTSD, and under the presumptive legislation diagnosis of PTSD must be made by a Psychologist or Psychiatrist.
Some of the items that you will want to check include:
How does the EAP provider screens the calls and if they are equipped to provide service in this area?
How many hours of counseling they can receive and if this can be increased for PTSD cases?
What qualifications do available counselors have to address PTSD symptoms?
What knowledge and experience or training has been provided to the people who are taking employee calls have with regards to the signs and symptoms of PTSD and how is the employee properly referred to a mental health professional with training and experience addressing PTSD?
Is the service is available 24/7?
What type of assistance is available to help you manage a critical incident?
Does the provider provide training for managers on how to spot an employee in crisis and is this included in the package. If it is not included can we pay for it as needed?
Does the provider provide peer support training, training for peer support mentors, is this included in the package, or can you pay for this as needed?
Does the EAP have other clients in the first responder community,
Is there an opportunity to improve the level of service if other members in the first responder were to access the EAP as a single account/client?
Once you understand the strengths and limitations of your Employee Assistance Program provider, you will be able to identify the next steps you need to take to provide additional support to your workers. In some cases you may want to contact your colleagues in the first responder community to establish a more robust program.
Communicate the strengths and limitations of your EAP program to your workers so that they are aware of the services and/or processes they will have to go through if they utilize this as a support resource. Remind your workers that is is important that if they think they are experiencing PTSD they should see help from a mental health professional.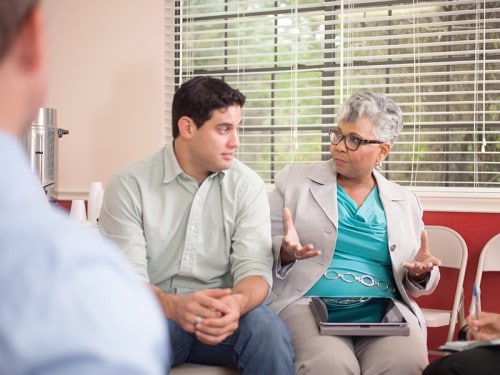 Understanding other available Support within your Community
There are community supports available to your workers and when you are just getting started in developing your plan these resources can be a very valuable first step. There are a number of distress and crisis centres throughout Ontario and many of these centers offer services which would be beneficial to a worker. Some of the services provide include suicide and crisis intervention, suicide prevention training, community education and suicide survivor support.
You should reach out to your local distress centre and identify the services that they provide. Most of the centers are open 24 hours a day, 7 days a week. Some of the questions you can ask your local distress centre include:
Do you provide specific services are provided through your local distress or crisis centre(s)?
What are the qualifications of the service providers
Are the help line staff equipped to recognize the signs and symptoms of PTSD and then provide appropriate support and direction for the worker?
Do they provide training or resources for managers on how to spot an employee in crisis.
Do they provide peer support training, training for peer support mentors?
As part of your prevention plan you should communicate the services available through your local distress centre. To find your local distress centre contact information visit: dcontario.org
The Government of Canada also has a Mental Health Helpline. Information about this service can be found on their website: connexontario.ca/
Tip: Increasing Benefits Coverage for Psychological Support
Mental illness and PTSD in first responders can have a significant impact on work productivity, working relationships, and cost employers a significant amount in absenteeism, or sick days, and presenteeism, or coming to work when the employee cannot do the work well. Early recognition of mental health concerns, the right resources, and adequate treatment can help people get on the path to recovery and return to work quickly. In addition to supportive resources such as a Peer-Support Team, Employee Assistance Program and Community based mental health services, you should consider increasing health benefits coverage for psychological support in order to more effectively and efficiently prevent onset of mental illness including PTSD and promote a healthier and quicker return to work.
PTSD Treatment Options Available through OHIP
It is important to understand the treatment options which are covered by OHIP, you will need to contact your local healthcare provider to understand the treatment options available to Ontario.
To find a Physician, covered by OHIP, in your area who is trained and has experience addressing PTSD you can search the director of Physicians and Surgeons of Ontario website.
You can search specifically for Psychiatrists in your city on this site.
Note: Psychologists can provide assessment diagnosis and treatment for trauma related disorders as well, however psychologists in private practice are not covered by OHIP and will bill for their services.
The Ministry of Health and Long Term care has entered into preferred provider arrangements with US psychiatric hospitals to provide mental health services related to PTSD. Please note that these services require prior approval from the MOHLTC before it can be covered under OHIP.
River Oaks Hospital, New Orleans LA
Diagnoses: Post-Traumatic Stress Disorder, Dissociative Identity Disorder, Major Depressive Disorder, etc. with/without Substance Abuse
Gender: F/M
Level of Care: Residential
Typical length of Stay: 30 to 90 days
Rogers Memorial Hospital, Oconomowoc WI and
West Allis WI
Diagnoses: Post Traumatic Stress Disorder
Gender: F/M
Level of Care: Day Treatment
Typical length of Stay: 30 to 90 days
Tip: Benefits of Internal Support
In addition to increased psychological benefits, internal or integrated psychological support and referral should also be considered. Internal support is ideal as it will allow first responders to seek help directly after exposure to a traumatic event, as early intervention is important for the effective treatment and prevention of PTSD. Moreover, internal psychological support will allow employees to take appropriate steps after completing self-screening and self-care assessments, which will ensure symptomatic workers have timely access and referral to mental health treatment. Furthermore, internal support is advantageous as the clinician will have experience with both PTSD and first responders, and a nuanced understanding of the employer in order to help navigate place of employment. This will allow for ease of transition or return to work for employees. As a result, internal psychological support will often lead to increased job commitment, job satisfaction, involvement, positivity, and job performance.
Psychologists can provide assessment diagnosis and treatment for trauma related disorders as well, however psychologists in private practice are not covered by OHIP. Many extended healthcare benefits offered through organizations to provide coverage for the use of Psychologists. Organizationally, it is considered a best practice to provide additional coverage for treatment of Post Traumatic Stress Disorder or other occupational stress injuries.
The Ontario Psychological Association provides a directory of Psychologists in Ontario. You can search by area of practice, service language, age group, and problem area (Post Traumatic Stress).

WSIB Community Mental Health Network Psychologist Directory
The WSIB has established a network of psychologists and psychological associates who are registered with the WSIB Community Mental Health Network. These psychologists and psychological associates provide care through the Community Mental Health Program. This program is designed for all people with a WSIB registered claim who require psychological assessment or treatment. This includes people who experience a psychological reaction secondary to a work-related physical injury, as well as people who experience a significant work-related psychological response to a workplace incident or cumulative incidents, such as chronic mental stress, traumatic mental stress, first responder PTSD. Learn more or to access the network.
Internal Reporting Procedures
As part of your organizational Prevention Plan you will want to establish reporting procedures for PTSD. It is important to consider your existing accident and incident reporting procedures and explore if it can be expanded to include mental health concerns like traumatic mental stress or Post Traumatic Stress Disorder. It is recommended for mental health critical illness and injury, including PTSD, that your JHSC or H&S representative be made aware of these incidents in the same manner as other occupational injury and illness. This however, is considered a best practice and not a legal requirement as set out in the OHSA.
When considering how to implement notification or internal reporting procedures in your workplace you may want to explore how you currently meet the requirements set out in Section 51 and 52 of the Occupational Health and Safety Act (OHSA). These sections require that you notify the Ministry of Labour, JHSC or H&S representative and trade union (if applicable) if an employee is critically injured, disabled from performing their own work or receives medical attention resulting from an incident. The details required in these reports, and the parties who must be notified are based on the severity of the injury and are outlined in the OHSA and in Section 5 of the Industrial Establishment Regulation. Of particular importance is the necessity in S 5(2)(j) to include steps to prevent further illness.
Learn about other procedures to support your Prevention Plan.

Reporting to the WSIB
Reporting a Post Traumatic Stress Disorder through required channels is handled in the same manner as other injuries or illnesses. There are not special requirements set out by the WSIB at this time. When an injury or illness occurs, the employer must submit a Form 7 Report of Injury/Illness within three days.
In many cases, an employee with PTSD will require time off from work, but in some instances, it may be possible to accommodate them with alternate work as they are receiving treatment. The same WSIB form 7 is used regardless of whether the ill/injured employee losses time from work (Lost Time Injury), or only seeks medical attention (No Lost Time Injury). The employee will be sent a Form 6 by the WSIB for completion following the employers submission of the claim.
To report a PTSD injury on your Form 7 you will select "other" and then add PTSD or Post Traumatic Stress Disorder. For a complete explanation of Employer Responsibilities when reporting an accident please visit the WSIB website and review Policy 15-01-02. You'll receive a confirmation number when you submit online, verifying that your form has been submitted. You can easily review all of the claims you've submitted online in the past 90 days. The online version will automatically complete over half of the form for you.